Nigerian Artist Kizz Daniel ( real name Oluwatobiola Daniel Anidugbe ) was arrested Monday 8 August 2022 by police in Dar es salaam. The incident comes about after the Buga singer having a successful show in the Pearl of Africa – Uganda . He was expected to replicate the same in Tanzania but life is not a smooth road.
The on-demand Nigerian Artist thanks to his 'Buga' song which is currently topping charts across Africa is said to have pulled a big crowd in Uganda. In fact sources say his Ugandan concert held at Cricket Oval, one of the countries biggest venues had more People attend than the previous Nigerian song bird – Tiwa Savage.
"His perfomance was engaging. He interacted with the audience, asking them on several occasions if they want more, " writes Sqoop Uganda, a famous Ugandan Celebrity blog. It is on these grounds that perhaps the Tanzanian revelers held high hopes when Kizz Daniel went to Tanzania.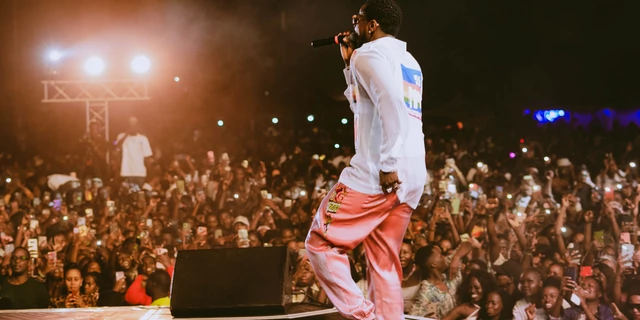 What brought about the Artist's Arrest?
Apparently, Kizz Daniel was supposed to perform on Sunday, July 7 at the Summer Amplified Concert at the Warehouse Arena. He failed to show up at the event that had seen a mammoth revelers eagerly awaiting him.
Patience pays but it pains. Word has it that having waited from 10 PM until sunrise without seeing even the shadow of the ' Buga 'singer, fans attacked his hotel. This led to several damages that are yet to be specified.
Consequently, the Tanzanian police officers came into the matter. Kizz Daniel and two of his management team were picked by the police at the Johari Rotana Hotel in the City Center. It remains to be seen how the situation will turn out.
A certain section of fans took to Twitter to share jokes about the Nigerian Artist and his song 'Buga '. "Person wey don mad oy When I land I land softly on a sofa floor So far so good." These lines from the hit song are delusion at the moment since Kizz Daniel is definitely not on a sofa and so far it's not so good.