Born in 1998, Sedrick Otolo is rated among the most inspiring Ugandan youths. He is popular for getting crowned with a number of achievements. One prominent quality the lad possess is his very simple, down to earth character. It therefore happens that everyone around him likes his personality and social skills. He became extremely popular when Airtel Uganda recognized him as an inspiration for the #UgNeedsMoreOfU campaign. The brand called him in person and he had a chance to rub shoulders on stage with high profile personalities. These included Gaetano Kaggwa, Andrew Kyamagero and Lucky Mbabazi. Sedrick grew up in an orphanage after losing his parents, although he managed to stand out and inspire many. By the date of writing this article, most youth are inspired by his books, speeches and podcasts.
Who Exactly Is Sedrick Otolo?
Sedrick is an author, software engineer, motivational speaker, director of a number of companies and Board of Director at Journey International. Journey International mostly serves in Lira City. He is also a Co-Founder at KaKebe Technologies Limited which is Northern Uganda's leading technology company. Kakebe Technologies Headquarters are based in Lira City.
"I was born on 19 January 1998 in Alemere Amolatar district in a ramshackled clinic at 12pm," says Sedrick, "My mom, Ejang Milly Grace, said it was a monday market day." Unfortunately, Sedrick lost his father when he was 4 years old in 2002.
Sedrick was greatly inspired by his best friend called Patrick Okello. "He and I have been friends for 14 years," says Sedrick, "although he was one class ahead of me. Okello's participation in robotics competitions gave me so much inspiration. I had to pursue ICT classes right from primary six!" Sedrick attended primary education at Alemere Primary School in Amolatar district. From here, he moved to Otino Waa Orphanage and resumed P2 all the way to P7. Incredibly, the smart boy scored Aggregate 8 and joined S1 from the same orphanage located in Kole District. He went through to S4 and scored 28 aggregates in 2016. Otolo joined Dr Obote College, Lira for A level but unfortunately he only stopped in S5.
The Plot Twist
That's when he changed directions to apply for a course in 2018. He joined Isbat University City Campus formerly called Aptech Computer Education. He now pursues a Professional Certificate in Software Engineering and successfully finishes with 4.3CGPA. During the lockdown, Sedrick applied for Higher Diploma in Networking & Cyber Security. He finished a 2 year course in 4 months and graduated in December 2021. By 2022, the tech maestro starts enrolling for a Bachelor's Degree in Artificial Intelligence and Machine Learning. The intake is slated for september or early January 2023.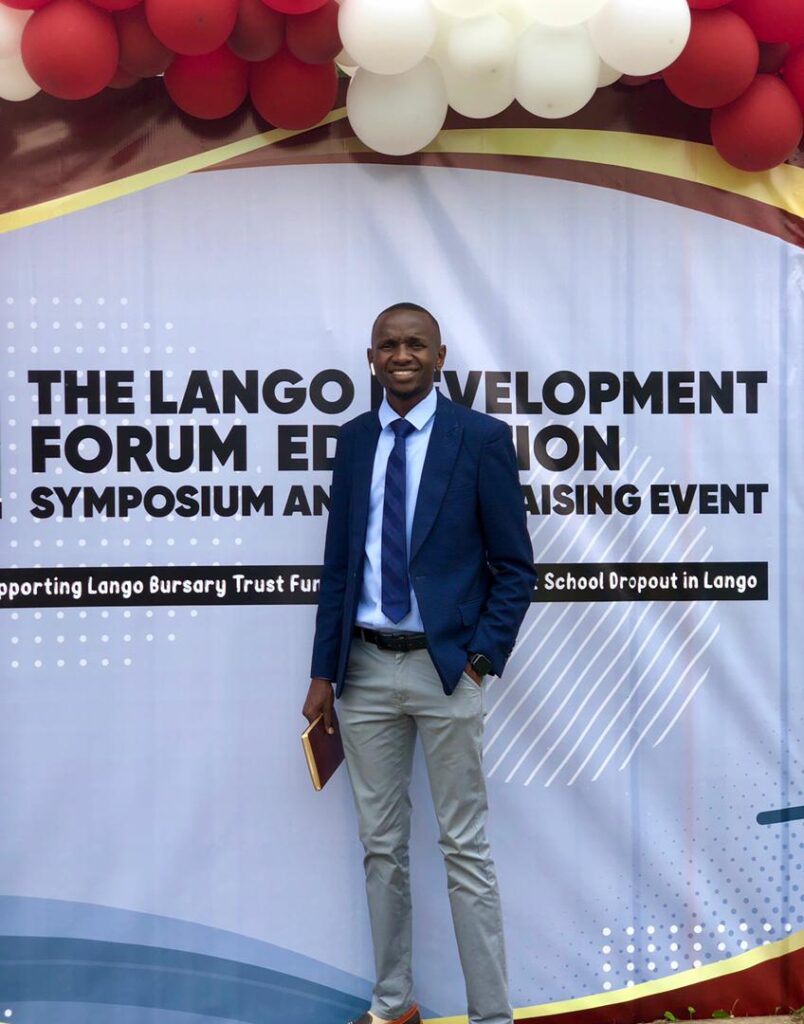 According to the incredible gentleman , he has chosen to focus on the Lango region. We asked him why he is not focusing on the rest of Uganda and here is what he said.
"For many years, people have said nothing good comes from Northern Uganda. This has affected the beliefs of the youths in this region so much. They even shy away from standing out. We want to make our region great in terms of technology, entrepreneurship and brilliance."
Also Read: The Story Of The Life Of Queen Elizabeth II
How Did Sedrick Otolo Invent Pregcare?
In November 2018, Sedrick and his friends where given 3 hours at HiveColab to think of different innovative ideas. This is when they birthed Pregcare for monitoring pregnant mothers.
Back to 2017, Sedrick created his first app which was a 3D video game. He made the invention during a 2 weeks tech camp in Gulu organized by Oysters & Pearl. The video game was a tour game around Otino Waa Orphanage where he grew up. The next invention was his Eat Healthy App made in S5. During his first year (2018) at campus, Sedrick paid no attention to any fun social activities. Instead, he waded ways of attending programs that would grow his knowledge after campus. These included attending competitions, conferences, events in the city and applying for innovation calls.
The Toughest Moment In The Life Of Sedrick Otolo
"My toughest moment was when I didn't pass elimination points in S5 to go to S6. This made me almost lose my scholarship and friends in exchange for criticism from friends and family. I was so disappointed in myself that I thought it was the end of my struggles." lamented Otolo, "Someone I loved said that I had failed in life – straight to my face. I cried to God, prayed and finally told God to let His will be done in my life."
According to the tech maestro, God is the center of excellence and wisdom. He thinks that we need to acknowledge him in everything that we do. "He is my everything and inspiration everytime. I read the Bible which gives me a reflection of who God is." Sedrick's distinctively favorite scripture is Colossians 3:16.
The young lad advises young people to be resilient and love God. Sedrick says that youth should seize every moment and opportunity that they get in life. He also discouraged people who expect to called forth at some point. Instead, they should look for what can make them grow, develop and become the best version of themselves to be proud of.
Secondly, Sedrick Otolo told Kampala ET that young people should add value to their lives. He says that value is what makes us unique and different.
Sedricks said that his favorite song is the phenomenal Tori Kelly's I'll find you which which features Lecrae. In the movie world, he recommends an animation known as Coco while he loves a book titled Principle and Power of Vison by Myles Munroe.
Books Written By Sedrick Otolo
Sedrick has personally authored two books which include:
1. Being Victorious
Written when he was only 19 years old, Sedrick wrote Being Victorious during a tough time. This was his only comfort during his vacation so it revolves around handling the different challenges in life.
2. Building Great Character
The second book saw the public spotlight in Feb 2020. It is one of Sedrick's daily inspirations. This book impressed so many people such that it is currently approved for sale internationally on Amazon. Building Great Character is a self help personality book and a great read for just about anyone. The author says it's a good read because good character is a requirement for all people. "Good character deserves more praise than outstanding talent because to some extent, talent is a gift from God. However, character develops daily." said Sedrick. I would as well suppose that you read it too if you have not.
The Future Of Kakebe Technologies
According to Kakebe co-founder Sedrick Otolo, the brand wants to set a national perspective in bringing quality services. They also want to monopolize Northern Uganda with great innovation. The brand aims at making everyone believe that great things come from northern uganda and most importantly among young people. Sedrick said, "We are visioning at building a center of technology and innovation in Northern Uganda." We asked him about his hobbies and it turns out he's quite out of the ordinary. Sedrick loves to play soccer and ride motorbikes to unknown places.
How Sedrick Became Face Of Airtel Ug Needs More Of You Campaign
In March 2022, Otolo picked up a phone call from Henry Mutebi of Ministry of Gender, Labor and Social Development. The communication was about his tech story and how a telecom company had interest in Sedrick. Behold, Airtel Uganda had literally picked interest to run a campaign called UG Needs More of You based on his story. Sedrick says he was so humbled when he received a call from the Airtel executives. The executives appreciated what they called he and his friends' "commendable work" going on in Lira. "At the campaign launch in Serena hotel, I received an invitation." confessed Otolo, "And some of the top media personalities in the country celebrated me. I truly thank Airtel Uganda for the support they offered to me. I'm grateful that they stepped out to support the different innovations in this country."
We asked about his bad habits and Sedrick said he is a very busy person with so many things running up. He has about 4000 contacts which makes it so hard to even reply to their WhatsApp texts in time. He gets extremely busy that he seldom has time to be online. In turn, only thise people who understand him will be calm with him when he delays to text back.
What Should People Stop Doing?
"People should stop wasting time and engaging in useless discussions, for they yield nothing, but poverty." advises the Building Character author, "Each person should put an emphasis on growing their personal lives rather than watching and criticizing other people's agenda.
The Team Working With Sedrick Otolo
Currently, he works with a team of IT enthusiasts at Kakebe Technologies. "I generally love to work with those who are passionate about their passion. For passion creates rooms and opportunities if you do what you love wholeheartedly!" Sedrick told Kampala ET. If you want to be like Sedrick, you have to love people, be nice, pray and seize every moment in life. Give in your best shot and make sure that you have good communication skills.
Sedrick does not recommend drinking and smoking though. That's because most people that get into both suffer health-wise and financially. According to Sedrick, excessive consumption of alcohol or tobacco breaks relationships at work, home and slows performances. This in turn reduces productivity at work place.
Sedrick Otolo's Say On Women Emancipation
"Women can do so much if only they take the chance and if they don't shy away! They should always take a leap of faith and do what men can do." emphasizes the amazing tech maestro, "there is nothing a man can do that a woman can't do. Created with all potential and courage is a woman."
Sedrick believes that his destiny will happen when he achieves the ability to support any youth with innovative and creative ideas. These will add value to thier lives and their community in the motivator's incredible mind.
He also wants to share words of inspiration around the world. Turns out that his biggest is to speak to the youth. He wants to inspire them and see them start over with the right course of duty.