The Uganda Women Water Initiative (UWWI) is making a significant difference in the lives of women and communities in Gomba District, Uganda. Through its dedicated efforts, UWWI has been empowering women, improving their livelihoods, and contributing to environmental conservation. In this article, we will explore the positive impact that UWWI has had on Gomba District, as shared by local officials and community members. Watch or Listen to the content of this article below.
Also Read: Science discovers how to write on water
UWWI Support for Tree Planting and Environmental Conservation
Allan Muwanga, the Forest Officer of Gomba District, expressed his appreciation for UWWI's work and highlighted their commitment to tree planting. UWWI's partnership with the district includes a component focused on reforestation efforts. The district is actively working with UWWI to provide support for the planting of trees in degraded forest reserves. Additionally, the district plans to supply seedlings to UWWI to further their tree-planting initiatives in local forest reserves. This collaborative effort demonstrates the commitment of both parties to environmental conservation.
Kitchen Gardens and Economic Empowerment By UWWI
UWWI's approach to women's empowerment includes the promotion of kitchen gardens. To qualify for support, women are encouraged to establish kitchen gardens where they can grow vegetables for sale and personal consumption. This initiative not only improves food security but also creates economic opportunities for women. Busingye Godliver, the Co-Director of UWWI, highlighted the success of this program, emphasizing that nearly all the women they work with in Gomba District now have kitchen gardens. Through training and various techniques, UWWI is helping women develop sustainable and productive gardens.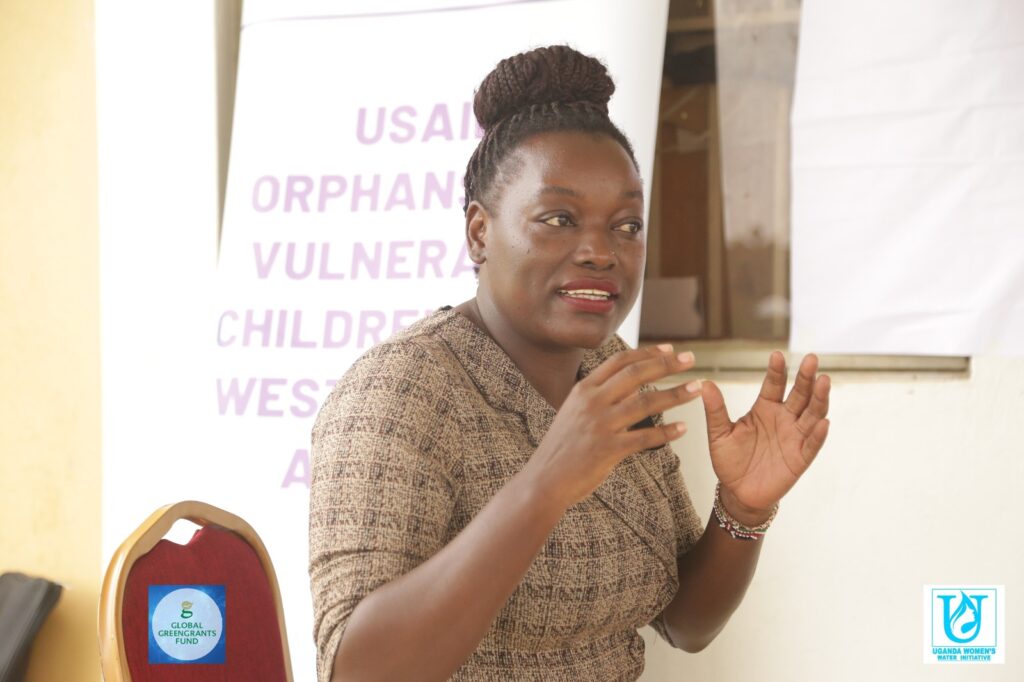 Community Involvement and Expansion
UWWI is deeply rooted in the communities of Gomba District. They are actively working in Kifanfa, Ntenjja, and Lusenke. There, they plan to establish a one-stop solution center for water, sanitation, and hygiene. This center aims to ensure that language barriers do not limit access to essential knowledge. The organization acknowledges the challenges faced by local women in accessing training opportunities due to language barriers and strives to bridge this gap.
Thematic Areas and Commitment to Women's Empowerment
UWWI is committed to addressing various critical issues in the Gomba District. Their thematic areas include water, sanitation, and hygiene, environmental conservation, bio-intensive farming, and women's economic empowerment and leadership. They believe that by empowering women, they can positively impact the community and the environment. As Comfort Hajira Mukasa, the Director of the organization, noted, they have already empowered around 50 women through various programs, fostering social and economic growth in the community.
The Choice of Gomba District By UWWI
The decision to work in Gomba District came from the personal experiences of UWWI's leaders. They witnessed the hardships faced by women during droughts and observed the deep-rooted political influence in the district. Their familiarity with the area and the pressing need for assistance led them to choose Gomba as the focus of their efforts.
Local Government Support and Collaboration
Local government officials in Gomba District expressed their gratitude for UWWI's contributions to their community. They praised UWWI for empowering women and protecting the environment through tree-planting initiatives. There has been support from organizations like the Global Green Grant Fund and the Women Earth Alliance. This has enabled them to make a substantial impact on the lives of women in the district.